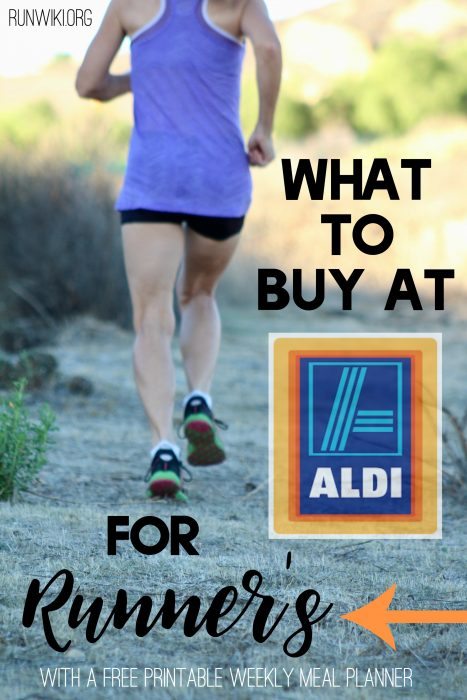 Last September the Southern California city that I live in opened it's first Aldi Grocery Store. Since my family had lived on the East Coast for several years, I was familiar with the brand but had never shopped in one because there was no location convenient enough. So, when my husband came home from checking it out our local store and said he didn't understand or care for their concept, I was intrigued. I guess I'm rebellious that way.
What's the deal with Aldi stores? From what I understand, Aldi offers really great deals by cutting costs in other ways. Who doesn't want to save money? Right? For example, you need to use a quarter to get your shopping cart and when you return the cart you get your quarter back. This saves the company money by not having an employee gather them from the parking lot, and that savings is passed on to you with great food prices. You also need to bring your own bags or they will charge you a small fee (in California, you need to bring your bags anyway as this is a law to help prevent pollution and waste). Thirdly, you will be bagging your own groceries — they only have checkers, no baggers, so be prepared for that.
When I went to check it out myself, I kind of went crazy. They have a really nice selection of whole, organic, and gluten-free foods. Let's just say that as a runner who is often watching what food I put in my body, and as the CEO of my family who is on a very tight budget, I fell in love. I always leave there for less than $100 for a family of five, something that never happens at other stores.
Aldi is different from other groceries because you need to do some planning ahead, but to me it's well worth it. They offer the foods that my family and I eat at great prices. It's a win!
I know my husband wasn't a fan, but if I need to send him to Aldi, I arm him with the things that he needs: a quarter, a list, bags, and a conversation on what to expect so he's not thrown off guard.
When entering into an Aldi for the first time here are some of the thoughts and feelings you may experience. Don't be surprised if you say…
"Is this it?" Don't be fooled by their limited selection of items. They don't have an over abundance of inventory and for me personally, I like this. I guess I find the regular grocery store overwhelming at times. Too many choices makes my head hurt. If you're like me, you will find their simple store refreshing.
"Why is the checker re-loading my cart and then pushing me aside?" Don't be alarmed. At my store there are no signs or employees explaining how their store works, they just assume you know what you're doing. The checker will immediately place your items back into your cart and move you to a counter at the front of the store where you will bag your own groceries with your personal shopping bags.
"Why are the carts attached to one another?" You will need a quarter to remove and use a cart. This eliminates the need for an employee to have to gather them from the parking lot. That cost savings is passed onto you through better pricing. When you return your cart, you get your quarter back. At my store, if you forget a quarter they will lend you one.
"I haven't seen these brands before" Aldi has exclusive brands that they make on their own through trusted manufacturers. I'm guessing that this means they are not dealing with major manufacturers and this allows them to pass the savings onto you.
"What is the difference between the red and white tags and the green ones?" The red and white tags are considered "Aldi finds,' these are not items they carry all of the time, they can be seasonal, special finds, and you should get them while they're hot because when they're gone, they're gone. The green tags are for their regular "carry all of the time" items.
Like regular grocers, Aldi also has products that are more processed and not so great, but they also have a huge selection of whole unprocessed foods. You just need to go in as an educated shopper (read those labels).
I highly recommend that runners, or anyone trying to eat less processed foods, give this store a try. One of my favorite cookbooks to use while I'm training for a big race is Run Fast Eat Slow by Shalane Flanagan which also contains a meal plan. Many of the items needed for the recipes in her book can be found at Aldi Stores.
*PRO TIP–for extra savings– Before you head off to do your shopping, check the weekly flyer for items on sale and for in-store Coupons. Last week I had a $10 off coupon for any purchase over $40. The ad is sent by mail and is available online.
I also have many recipes on this site that are great for fueling your training. I've put together a basic list of essentials HERE and some pantry staples HERE.
What to Buy at Aldi for Runners plus a Free Printable Weekly Meal Planner #Runchat #Running Click To Tweet
My recommended list of foods you should shop for at Aldi
Seeds – Pumpkin, Sunflower, Chia, Quinoa, Hemp, there are many seeds to choose from and many contain vital Micro-nutrients and Omegas. Seeds like Chia are high in fiber, protein, and Omega 3's. Many seeds are high in Selenium and Vitamin E.

Nuts, Dried Fruit, and Beets – Nuts are packed with protein, healthy fats (Omega's), and fiber, especially walnuts and almonds. Dried fruit is great to use as fuel for a long run, for baking, and to throw in salads (look for ones that do not have added sugar). Dried Beets are great as a crunchy snack alternative to chips. Regular Beets are high in Vitamin C and essential minerals like potassium (essential for healthy nerve and muscle function) and manganese (which is good for your bones, liver, kidneys, and pancreas). There is some evidence that beets can increase your blood flow, muscle contraction, neurotransmission, and oxygen flow, which may improve your performance.

Natural Sweeteners
– These are lower on the glycemic scale than processed white sugars and when used in moderation can add flavor to many recipes.
Fresh Fruits and Vegetables
– Bananas, cherries, berries, apples, oranges, and most fruits are full of water and contain a natural occurring sugar called fructose. Runners need carbs and fluids, so fruit is a win-win.
Leafy Greens
– We all know that eating our greens is good for us, but greens are especially beneficial to runners. That pretty green color is chlorophyll. Chlorophyll has been shown to stimulate the production of hemoglobin, increase your oxygen uptake, and energize your body, something all runners could use more of! Add a handful to your next pre- or post-run smoothie!
Healthy Fats
– Coconut, Avocado, and Olive Oil are just a few of the healthy fats to add into your diet. Loaded with Omegas, unsaturated fats help lower cholesterol. Healthy fats also keep you feeling "full" longer.
Organic Potatoes and Yams
– Orange is the new white, although white isn't horrible for runners, either. Sweet potatoes are considered a "Super Food" and contain high levels of beta-carotene, a powerful antioxidant. Sweet potatoes are also a good source of vitamin C, potassium, iron, and the two trace minerals manganese and copper. These trace minerals are important to healthy muscle function and often times runners have low levels of these.
Whole Grains
– I know grains have gotten a bad rap recently with many modern diets and I realize that some people may feel better not eating them, but for runners, high-quality whole grain breads, pastas, brown rice, and ancient grains are great choices. Runners require more than the average amount of total carbohydrates in their diets (about 50%), especially in the days leading up to a marathon or other endurance race.
Beans and Legumes
– For those of us who don't eat a tremendous amount of meat, or are vegans, beans are one of the number one sources of protein. What I love is that they are also one of the most affordable foods! Beans are high in antioxidants, fiber, protein, B vitamins, iron, magnesium, potassium, copper, and zinc. Beans are a wonderful double whammy of slow-burning carbohydrate that allow you to have sustained energy and quality protein to rebuild muscles post-workout.
All-Natural Nut Butters
– A great source of Healthy Fat, protein, and fiber as long as you look for the all-natural types. You can also make your own by throwing a bag of nuts in the food processor, add a dash of salt and a few seedless dates for flavor, and blend until creamy.
Oatmeal
– One of the best pre-run meals. A great race morning breakfast. Add a bananna and some nut butter for flavor.
Wild Caught Salmon
– Full of healthy fats, omegas, and protein.
Canned Tomatoes and Broth
– Two pantry staples needed for many recipes.
Almond Milk and Green Tea
– Almond Milk is a great dairy free alternative to milk. Green tea is loaded with antioxidants and nutrients that have powerful effects on the body. This includes improved brain function and the body's ability to burn fat, which is key for endurance runners.
Apple Cider Vinegar
– Helps to keep your body PH balanced and support a healthy immune system, also a natural energy booster. I take a tablespoon mixed with honey and water every day, especially the weeks leading up to, and following, a race.
German Dark Chocolate
– When eaten in moderation it makes a nice treat. Break off a small square to satisfy your sweet tooth.
What to Buy at Aldi for Runners plus a Free Printable Weekly Meal Planner #Runchat #Running
Click To Tweet
Click Here For Your Weekly Meal Planner
Links to some of the recipes on the Meal Plan:
Crunchy Thai Style Quinoa Salad
Overnight Oats
Frozen Banana Bites
Energy Balls
Granola
Crunchy Chicken Salad
Electrolyte Drink
Lemony Chicken Soup
Chia Pudding
Whole Grain Muffins
Smoothie
Whole Grain Pasta with Tomato Cashew Pesto
Cherry Pineapple Quinoa Salad
BBQ Baked Beans
How about you? Are you trying to save money? Have you shopped at Aldi before?