Last Thursday night after I hit publish on my post, I started feeling like I was getting a migraine. By morning, my body did not let me down and I had the mother of all cluster migraines. I was in so much pain for two days. I was so sick and yet life must go on.
I must say that migraine disease is taking it's toll on me. I used to be able to somehow get through my day with dark glasses, an ice pack, and loaded up with meds, but lately I just don't have it in me. I am lacking the will to keep pushing through. I feel much better today, but when I am going through an attack, I am getting very down and depressed. I have more days in pain than not and it's slowly beating me down.
I feel like a prisoner in my own body and I have a life sentence. I can only equate this illness to torture. I obviously have never been tortured, but the pain is like no other– it's not the kind of pain you can distract yourself from. I'd rather go through labor with no drugs than have an attack and yet I have them over 15 days a month. They have stolen a part of my life and my personality and they seem to be getting worse not better. I have sought every treatment you can possibly imagine. I have seen hundreds of doctors. I am in support groups. I have run out of ideas on how to help myself.
I just try and focus on the positive and appreciate with all of my heart the days that I am free of pain. The scary part is that I went for a run last Thursday and my attack began that night. I am terrified that running is triggering them. I can't imagine my life without running and the happiness it brings me. I want more than anything to be myself again… I feel like that person is slipping away and that I have just accepted this new version. The one who doesn't run, who has no drive or will, the one who lives in constant worry of the next attack, the one who carries this darkness about her. I just want my life back. I want to not have to fake it that everything is okay. I want to stop lying to people that "I'm fine." Fifty percent of the time or more I am in severe pain. Pain so intense that it makes you want to curl up and go to sleep forever. I'm tired. I am worn out. I have lost my fighting spirit.
I didn't set out to write this, but it just fell out of me an onto the page. I don't want pity or attention, I just want it go away. More than anything I want an end to this. I have no, "light at the end of the tunnel," It's just an endless dark tunnel.
Why am I writing this? I almost just deleted the entire thing, but I have to honest. I need to write. Sure I could write about fluff. Lord knows I've done that hundreds of times, but I feel like being real… raw… me.
How can I post a recipe after that? I guess I just do it.. So here you have it.
A rant about my migraine disease and a recipe for Tomato Basil Cashew Pesto - #dinner in less than 15 minutes! #fitfluential
Click To Tweet
What You'll Need
12 oz container of Organic Cherry Tomatoes
1/2 cup of fresh basil
1/2 cup of fresh Parmesan Cheese
1/4 cup of cashews
1 mild cherry pepper or pepperoncini
1 clove of garlic -pealed
salt and pepper
1/3 cup of Olive Oil
How to Make It
Place all ingredients in a food processor and pulse until you have a chunky sauce. Serve over pasta, on sandwiches, or as a dip. Stores in the fridge for up to one week.
Make this while your pasta is cooking and you'll have a gorgeous dinner in less than 15 minutes!
I'm linking up with Tina Muir and Confessions of a Mother Runner for Meatless Monday. Head over there and check out some of the great recipes they have.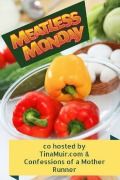 For more DIY, running and recipe inspiration follow me on Pinterest
Visit RunWiki's profile on Pinterest.