Happy Monday, everyone, and Happy Thanksgiving to all of my Canadian readers!
The weekend went by so fast! I started to get a little pissed off that it's already Monday and then decided to turn that thought around and embrace the start of a new of the week. I grabbed on to the idea of new beginnings and that anything can happen at any moment. If you don't believe in small miracles, then you will never see them.
I thoroughly enjoyed following so many of my facebook friends along during the Chicago Marathon — I saw a whole slew of PRs! I jumped up and yelled, "yes!" when I saw that Deena Kastor broke the US women's Master record for the marathon and that Tina WON the Army 10 miler. So exciting and makes me anxious to start running again.
It was over 100 degrees on both Saturday and Sunday here in SoCal and I heard that El Nino is not a possibility anymore, but is actually going to happen — I guess we're in for some rain this winter. I'd rather run in rain than heat, so I'm okay with this news. Let's just hope we don't get flooded out.
Something that dawned on me this weekend when I was sitting with a group of acquaintances is that I, for the first time in a long time, sincerely do not care what others think of me. I know this may sound out of the blue, but I guess in the past I may have said I didn't care, but deep down I did. As I get older I say more of what I want to say, don't apologize when it is not taken well, and truly do not care about others people opinion of me. In fact, if you don't like me then please keep your distance– you'll be doing me a favor… so thank you. Ha! Don't get me wrong, I'm not mean spirited, and would never intentionally hurt someone, I am just talking about my opinion on general topics… I've gotten very honest… It's nice.
My husband has been out of town on business the past few weeks, so I thought I'd surprise him on Sunday morning with a date. I planned a picnic sunrise hike. My Mom came over Sunday morning to watch the kids but the only problem wast that during the night millions of ants had overtaken our garage, the cat barfed everywhere, and the dog ran away as we were trying to get out the door. I wasn't happy but not shocked either. This is our crazy life and really, did I expect anything different?
Well, yes, kind of and I was pissed for about 15 minutes. Then we cleaned up the ants, barf, and captured the dog. But, by the time we did this it was already in the 90's so we opted for trip to a cafe instead. Apart from the people who sat right next to us in an otherwise empty restaurant, we had a lovely, uninterrupted conversation, and as a bonus he has tomorrow off for Columbus Day and the kids have school. This means we may have coffee two days in a row… a record! Please God no cat barf or ants… please.
It's still so flippin hot here but I am still craving Fall foods! I don't love pumpkin – I just don't – but I do love salted caramel. Nothing better than a Caramel Latte or tart green apples dipped in sauce. This condiment is low sugar and all vegan. I add it to lattes, smoothies, fruit dip, on ice cream, and over pancakes- it's so good! I hope you like!
What You'll Need
3/4 Cup of Truvia Brown Sugar Blend
4 Tablespoons of Earth Balance Buttery Spread ( Non Vegan option use Butter)
1/2 cup of Almond Milk
1 teaspoon of Vanilla Extract
1 teaspoon of Sea Salt
How to Make It
In a medium sauce pan, melt Earth's Balance, add Truvia Brown Sugar Blend until the sugar has dissolved, about 3 minutes. Add Almond Milk and cook for 5 more minutes. Remove from heat and add vanilla extract.
Serve right away or place in the fridge for up to two weeks ( if placing in the fridge, it will solidify and become cloudy– 30 seconds in the microwave and it's back to a sauce and if using in a latte or warm drink, it will melt on it's own).
5 ingredient Reduced Sugar Salted Caramel Sauce- Vegan #fitfluential #recipe
Click To Tweet
I'm linking up with Tina Muir and Confessions of a Mother Runner for Meatless Monday. Head over there and check out some of the great recipes they have.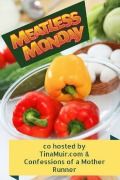 For more DIY, running and recipe inspiration follow me on Pinterest
Visit RunWiki's profile on Pinterest.
How was your weekend? Did you race? Do you like Pumpkin? Caramel?