Good morning everyone. Hope you all had a wonderful weekend. Saturday was filled with kids sports and just downright chaos. One kid here, the other there. "Oh no, this one forgot his mouth guard!" "This one left their water bottle!" "Mom, I left my cleats in Dad's car, you'll have to turn around and get them." Oh my word it was one of those days. My husband and I were so glad to be done around 2 pm. We were going to go to an event at our local High School but decided to just go to the park and play with the kids. I'm glad we did, it was really fun and nice to be with them.
Saturday night I had the most bizarre dream. I dreamed that I was married to Donald Trump. Yes, you read that correctly. Typing that makes me feel a little sick to stomach, but this is indeed the truth… I was married to Trump. He was a nicer looking version, hair wasn't bad, and above all, he was a nice guy! I was having to convince all of my friends that he was a good guy and naturally they were having nothing to do with it. They gave me a horrible time for being with him and so the dream was basically about me selling my new husband to the world. It never happened and now that I'm awake, I can understand why. Pretty funny, though!
It finally cooled off this weekend ( although it's going to get hot again next week). It even rained! I took the dog out for a long walk and it sprinkled the entire time. This is my favorite time to go because NO one is out. If there is the slightest dribble of water, SoCal residents put on the Ugg Boots, light the fire, and stay put.
Being the introvert that I am, I take these opportunities to blissfully walk through the neighborhood without having to say hello to people I don't care about. Yes, I'm a grumpy old lady, but sometimes you just want to walk uninterrupted.
You have no idea how happy the cold weather makes me. It puts me in the BEST mood. I love cool, crisp weather. I wish it would stay!
So, onto my meatless Monday recipe. I got tired of reading a list of gross ingredients in the store bought hummus, so started making my own. My daughter loves to take this with pretzel crisps and veggies in her school lunch. I fill up a bento box with this lemony dip and veggies and everyone is happy. She loves the flavor and I love how healthy it is.
I never knew how easy it was to make this… takes less than 10 minutes.
Hope you have a great week!
What You'll Need
1 can of Organic Chick Peas with liquid reserved
2 large cloves of garlic pealed
Juice from 2 lemons
2 T. Olive Oil
1 1/2 teaspoons of sea salt
1/3 cup of Tahini
1 Teaspoon of Harissa ( if unavailable Sriracha will work)
2 T. of liquid from the Chick Peas
How To Make It
Place all ingredients into a food processor or blender and process until smooth and creamy. Refrigerate for up to one week.
10 Minute Traditional Creamy Lemon Garlic Hummus Recipe- so much better than store bought #fitfluential #sweatpink
Click To Tweet
I'm linking up with Tina Muir and Confessions of a Mother Runner for Meatless Monday. Head over there and check out some of the great recipes they have.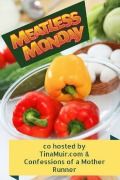 How was your weekend? Do anything fun? What is the strangest dream you've ever had?
For more DIY, running and recipe inspiration follow me on Pinterest
Visit RunWiki's profile on Pinterest.