This weekend flew by, probably because I was busy doing laundry and prepping for next week. What happened to lazy, relaxed weekends?
Speaking of stress. I've been having these heart palpitations for the past several months and, since they haven't gotten any better, I thought I would have them checked out. I went to the doctor on Friday and they did an EKG which came back normal. When I was in my doctor the last time ( a few months ago) My cortisol levels were off the chart, so my doctor thinks the heart issue is stress. He upped my magnesium and has me doing B12 injections to see if it doesn't clear up this way.
I am having a hard time with the diagnosis. It was tough to think that stress would cause me this much discomfort. Many times I have to sit down because my heart is racing so fast, I feel dizzy and short of breath. Guess I wanted to hear that it was something that could be fixed, because I don't see my life slowing down any time soon. I'm typing this at 3am, so I do know that it's tough for me to relax.
I'm not Ms. Zen right now, or ever.
I'm doing my best to balance everything and so many people have much more stressful lives, so I try always to be grateful for what I do have, but maybe I'm putting too much pressure on myself. I dunno, I will try the Magnesium and B12 combo for a few weeks and see if things get better. My heart feels like it's flopping in my chest right now as I type – it makes me feel sick to my stomach – wish it would go away!
Last week's, "back to school" went really smooth, but, then again, aren't most of us pretty organized the first few weeks or even months? Then we start to decline as the year goes by. My kids have cute clothes, nice hairstyles, and neatly packed lunches and then, by November, things start to drop off. First the hair, as we go from French Braids to dreadlocks. Then goes the outfits, from cute and matchy to "be sure to smell that shirt before you put it on, I'm not sure if it's clean!" Lastly, we go from neatly packed bento boxes with homemade hummus to "Mom, not PB and J again!"
I know the drill, I've been at this long enough. I start the year fill of hope that I will stay organized and on top of things..sigh… let's hope this year is different. I say that every year.
Speaking of healthy, neatly packed bento boxes, one of the things my kids like to bring for lunch is salad. Yes, I know, I have those annoying kids who will eat their leafy greens without forcing them to. Believe me, by November it will be PB and J , but for now I'm riding the "I'm the organized and healthy mom" train.
I do not do anything that's difficult. If something is complicated to prepare or do… I don't do it. I promise, you dump a few ingredients into a bender, whirl it around, and you're done.
The end result is this amazing and delicious dressing, and it's so much better for you then store bought. My family tries to drink this out of the bottle like a smoothie. We also put it on tacos, eggs, and toast. It's like our go to sauce right now. So her ya go…
What You'll Need
One fresh Mango or 1 cup of jarred rinsed and drained
juice from two limes
2 T of honey
3 T of olive, avocado or walnut oil
salt and pepper to taste
How To Make It
Place all ingredients into a blender and blend until smooth and creamy. Serve right away or refrigerate for up to a week.
Mango Lime Salad Dressing #fitfluential #sweatpink
Click To Tweet
I'm linking up with Tina Muir and Confessions of a Mother Runner for Meatless Monday. Head over there and check out some of the great recipes they have.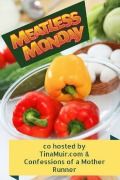 For more DIY, recipe and running inspiration follow me on Pinterest
Visit RunWiki's profile on Pinterest.