I'm linking up with Tina Muir and Confessions of a Mother Runner for Meatless Monday. Head over there and check out some of the great recipes they have.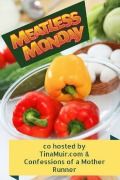 Happy Monday everyone! I had the best weekend ever! A few months ago I decided to sqeeze one last getaway in with my family before school starts, so I booked a cabin in Big Bear Lake, which is only a 2 hour drive from our home.
As the weekend grew closer, I started to wonder if it was the right thing to do. We had already been to San Diego, and Charlottesville and I was getting pretty stressed about packing, unpacking, laundry, and general chaos leading up to these getaways. But I reminded myself that it always sucks before and after a trip, but that the memories we collect while away are always priceless. Once again, we had a lovely time and made some good memories!
All about our weekend at Big Bear Lake! #LiveItUpBigBear #FitFluential #Sweatpink
Click To Tweet
We left Friday and made the trip up. This time there was very little traffic, so we sailed right up to 7,000 feet above sea level. Since this was our first time there as a family, I had no idea what to expect. We rented a very rustic cabin (more like glamping with a kitchen). The location turned out to be ideal, very close to Snow Summit and our unit backed up to a National Forest and hiking trails. We were surrounded by giant old pine trees, forest critters and we were not right on top of our neighbors. We went for a hike with the kids and napped on picnic benches before heading out to get groceries.
The next day we took the kids to an Alpine and Water slide and spent the better part of the day there– it goes without saying, we had a really fun day.
On Sunday morning we checked out and headed to the Marina, where we rented a pontoon boat for a few hours. Of all of the getaways we did this summer, this one was the most relaxing. There was limited internet access, I did not bring my computer, and I intentionally tried to disconnect.
It's now Sunday night, and I'm back to my overly stressful life. I guess I could change that, but not sure where to start. I do know one thing, I could use more peace in my life. I need to work on having more of that relaxed feeling that comes with getting out of your environment.
Speaking of stress, I do as many things as I can to reduce it as far as meal planning, and that means getting out my trusty Crock Pot. I make this slow cooker breakfast in just a few short hours- I get up at dark o'clock to work or run and if I throw all of the ingredients in, my family has a warm, homemade breakfast waiting for them when they awake. We sprinkle this on yogurt, eat over milk, and mix in with over night oats or Chia Pudding. You could add dried fruit or chocolate chips, but I went for the low sugar version– my family always does better when we start the day this way. If you like granola, you're going to love this recipe.
Next week I will be guest blogging for Tina Muir, while she is away on her honeymoon. Be sure to check out the recipe I created in honor of her and her husband! I've got a hint… it's not healthy, but it's good!!
Reduced Sugar Slow Cooker Granola #fitflunetial #sweatpink #recipe
Click To Tweet
What You'll Need
3 Cups of Rolled Oats
1 Cup of Sliced Almonds
1 Cup of Cashews Rough Chopped
1/4 of Chia or Hemp Seeds a variety
1/4 Cup of Truvia Brown Baking Mix
1/4 cup of Agave
1/4 of Grape Seed Oil
1 t. Vanilla Extract
1 t. of Sea Salt
How To Make It
In the slow cooker, combine all of the ingredients and mix well with a wooden spoon. Set the Crock pot to low and cook for 2 hours, stirring every 20 minutes to ensure even color and cooking. It's that easy.
This recipe has no prep and only takes 2 hours to cook! I throw the ingredients in the Crock Pot early Sunday morning and it's done by the time the kids wake up. My husband is addicted! He puts his on yogurt, with milk, and as a healthy topping for a smoothie bowl or oatmeal. You can add dried fruit, chocolate chips, or a variety of add ins to give it even more flavor and texture.
I love it because I make it ahead of time and we eat it all week. With the kids going back to school, this recipe really saves me time. So simple, so quick, and so easy to make. We will be making this when the holidays roll around – you could make this so festive by adding seasonal flavors: apple pie or pumpkin spice at Thanksgiving, cranberries at Christmas.
Many flavor combos to experiment with and would make a killer Homemade DIY gift for teachers, neighbors, or friends. I hope you love it as much as we do!
For more running, DIY and recipe inspiration follow me on Pinterest
Visit RunWiki's profile on Pinterest.
Have you ever been to Big Bear Lake? Did you take any vacations this summer? Do you like granola?