I'm linking up with Tina Muir and Confessions of a Mother Runner for Meatless Monday. Head over there and check out some of the great recipes they have.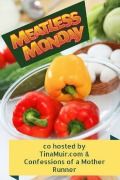 My husband and I are on our way back home after an amazing weekend in Virginia and Maryland. After my last post, we landed in DC, grabbed a rental car, and made a surprise visit to see my beautiful friend Alison of Racingtales. My husband had planned this trip last minute and I was thinking we wouldn't have time to visit friends, but as it turned out we had a few hours after landing and she was available as well. It was meant to be and we drove to her house and visited for a few hours with her family. She is training for the IM World Championships in Austria in August and I could tell she's three weeks from race day – she looked ultra fit and exhausted – ready for taper! Can't wait to follow along and see her race her heart out come August.
After leaving Alison's house, we headed up to Maryland and stayed with my husband's parents. We caught up with family and went to bed early that night. Saturday morning we strolled through historic downtown Frederick and picked up some tea and scones from a local shop. Then we made the 2 hour drive to Charlottesville for my husband's cousin's wedding. It was held at a beautiful vineyard in the heart of Virginia Wine country.
A Weekend in Virginia Wine Country and a recipe for Chocolate Dipped Pineapple Cherry Frozen Yogurt Pops
Click To Tweet
The weather was perfect for the bride and groom's ceremony. I can't remember the last time I cried so much at a wedding. The vows were so touching, and the bride and groom were glowing with love. I don't think there were many dry eyes in the crowd. It was one of the most wonderful weddings I've been too. I'm so very happy for them. It was a near perfect day.
The next morning we woke up and decided that since we were in Charlottesville, and most likely wouldn't be back for a while, that we had to go and see Monticello (the residence of former president and founding father of America, Thomas Jefferson). It did not disappoint. What a fascinating home, story, and man he was. I am still chatting my husband's ear off about how interesting President Jefferson was, both personally and professionally. If you ever have the chance to go, it is a day you will not soon forget, and as it turns out this awesome lady has spent some time there and has a few posts that you should read.. especially if you are planning on visiting there.
We returned to Maryland Sunday afternoon and met up with our good friends for dinner that night. Seeing friends was certainly a highlight of our visit this weekend. Living across the country from one another and keeping in touch via Facebook and text, isn't the same as looking someone in the eyes, but we picked up right were we left off and the evening flew by. It was difficult to say goodbye.. it was one of the best weekends away we've had in years.
Now I am blogging on board our Virgin American flight ( thank goodness for their WiFi access). I am equally excited to be back home and in the arms of my children. We have a busy week ahead of us and I'm rejuvenated and ready to hit the ground running. I'm having trouble uploading the pictures from the weekend because the connection is quite slow, so I will do that in a future post.
Even though we have only a few weeks of summer left before my kids go back to school, it's still hot out and we are still eating summer frozen treats. My daughter made a yogurt smoothie last week and I suggested that we turn it into a Popsicle. The chocolate dip was a spur of the moment idea that made this easy, healthy treat totally decadent and yummy. The pop itself only has 4 ingredients– so much better for you than store bought! I must love the Cherry/Pineapple combination becasue last week I made this recipe.
What You'll Need
1 cup of plain greek yogurt
1/2 cup of frozen cherries
1/2 cup of fresh pineapple
3 T. of honey
1 cup of melted Dark chocolate chips ( optional)
Popsicle Molds
How To Make It
Place the first four ingredients in a blender and mix until very smooth. Pour the blended mixture into Popsicle molds and freeze for several hours or overnight.
After the pops have frozen, melt chocolate chips in a microwave on low heat for 3 three minutes, remove chips from the oven, and stir until creamy. Dip the tip of the pop in the melted chocolate and place on a baking sheet covered in parchment paper. Put the pops back into the freezer and let the chocolate harden ( about 20 minutes). Now they're ready to eat and enjoy!