I'm linking up with Tina Muir and Confessions of a Mother Runner for Meatless Monday. Head over there and check out some of the great recipes they have.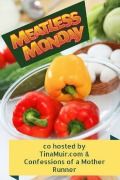 We're back from our San Diego vacation.
It was an amazing time, aside from an accident that occurred on our last day. The wind blew our pop up shade tent out of the sand and the metal foot hit my daughter in the face. She was pretty badly bruised and needed three stitches in her lip. The lifeguards gave us a lift back to our cottage and we rushed off to the Emergency Room. Sadly, this isn't the first time she's needed stitches on her face during a vacation.
Despite the trauma, she handled everything like a warrior. When it came time to clean the wound and put in the stitches, the hospital staff brought in towels to wrap her up with and three nurses to hold her down. I told them that wasn't necessary and would scare her even more. They were very unsure and said that they also needed to remove the sand from her wound. I assured them that she could handle it, and she didn't disappoint – not a wiggle or peep from her.
I write this with a tear in my eye, she was so brave, so strong, she amazes me. I will always remember her courage both times she had to have someone pick dirt out of her wound and sew her face!
We had patients and staff coming up to us and praising her bravery during a very difficult procedure. To say I'm proud is an understatement, I am completely inspired by her.
Understandably, she was pretty zonked after that so that was really the end of of our vacation. We packed up the next day and headed back. I was happy to sleep in my own bed, but feeling a little post vacation blues. It was so nice to have less work and more time with my family. We love Coronado– I am hoping and praying that we can get the same cottage for next year.. it books up fast.
Today I went for a 3 mile run. Still not pain free. I'm really tight and stretching helps, but I'm starting to wonder if I'll ever be able to run like I used to. My body is changing, I miss the endorphins, my running friends… I miss running like nobody's business. I'm sure many of you understand what I'm going through.
It sucks not having that outlet. One day at time. I don't want to think I'll never be back, I just can't go there, but those thoughts do creep in from time to time. Trying to stay positive.
My recipe today is one we eat quite often. My husband and I feast on this all week long for lunch, but it can be a vegan dinner as well. I serve it on a bed of lettuce and have prepared it as an appetizer and side dish. I want to say it has a little bit of an Asian flavor to it, but that's stretching it a bit. The soy sauce gives it a deep, slightly salty flavor. Mixed with the sweet pineapple and cherries – it's a wonderful flavor combo. Here ya go…
What You'll Need
2 cups of quinoa rinsed ( Cook according to package instructions- I use vegetable broth instead of water for more flavor)
1/3 cup plus 3 Tablespoons of grapeseed or olive oil
2 clove of garlic minced
1 tsp. salt and pepper
2 Tablespoons of Soy sauce or Tamari
1/2 tsp. of crushed red pepper
2 T. of Apple Cider vinegar
1 T of fresh Lime Juice
1 15 oz. can of crushed pineapple with the juice
How To Make It
While the quinoa cooks, mix all of the other ingredients in a large bowl to make a dressing.
Add the hot quinoa to the dressing and mix well. After it has cooled to room temp, refrigerate. Before serving, mix in the following:
1 cup of coarsely chopped cashews
1 cup of dried cherries
Sweet and Salty Cherry Pineapple Cashew Quinoa Salad #fitfluential #sweatpink
Click To Tweet
How about you? Any accidents while on vacation? Ever had to give up running or another activity you love? Have you been to San Diego?
For more DIY, recipe and running inspiration follow me on Pinterest
Visit RunWiki's profile on Pinterest.