I'm linking up with Tina Muir and Confessions of a Mother Runner for Meatless Monday. Head over there and check out some of the great recipes they have.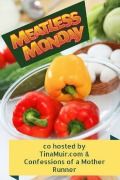 I am blogging from Coronado Island in San Diego California. What should have been a 3 hour drive yesterday took us over 5 due to torrential rain fall. I've grown up in Southern California and I have never seen rain like this in the summer. Obviously we need it– it is residual precipitation from Hurricane Delores, and it doesn't bother me one bit–nothing could stop me from having a great time this week.. not even the horrible migraine I've had.
Last night we got in a little late so we ate dinner out– we're staying in a cottage right on the beach and it has a small kitchen. We decided to go out instead of cooking and had a great meal at Candelas with a perfect view of the Bay and downtown San Diego. I had a Shrimp and Bacon Paleo Burrito made with a jicama "tortilla," it was delicious. You know how I love Horchata, so when I saw the Horchata martini on the menu I did not hesitate and it did not disappoint.
We went to bed early and woke up to a beautiful sunrise Sunday morning. My daughter and I started the day with an early morning walk on the beach. Are you following me on Instagram or Snap Chat? I've posted a few pictures HERE, and here on Snap–>
If not, here are few more.
There is something about walking on the beach as the sun rises. The sand is full of interesting things. It's so mysterious, each shell or piece of trash seems beat up and worn down from the tumultuous night before. I can't help but think of what happened… what is the story of how it came to rest on the beach? I love to fill my imagination with a dramatic tale of adventure. I know, I'm weird, most are just thinking it's a shell or a shoe, but isn't it fun to let your mind wander?
After breakfast we went grocery shopping for the week and then went to the beach to boogie board and lounge around. We were having a great time until Delores reared her little head again and we were forced inside to the dry shelter of our lovely, little cottage. That is were I sit now. Looking out my window at the Pacific Ocean in all of it's power and glory. The rain marking the sand with perfect round little pock marks. The sky is dark grey and ominous, the waves gigantic and pounding. I wonder what characters will be washed up on the shore tomorrow morning for me to day dream about?
Speaking of tomorrow (which is today as your read this), we are most likely on a boat in the middle of San Diego Harbor on a 2 hour tour. This is our third year vacationing in San Diego and we wanted to try something new. I'll let you know how it goes in another post– but it sounds like a new and fun way to see and learn about this great city. There are so many activities to choose from, but whether you're alone or with kids this is the only way to really see the bay.
Perfect start to a Coronado Island Vacation plus a Arnold Palmer Cookie recipe #SanDiego
Click To Tweet
Okay, so now on to my recipe for Meatless Monday. Not going to lie, I'm super proud of this one. It turned out so good. My husband loves the drink Arnold Palmer, if you're not sure what that is, it's half black tea and half Lemonade. I was thinking of making a healthy cookie and this came to mind, but it did not turn out very good when I made it with alternative ingredients, so I tried using this chocolate chip cookie recipe as a base and added the lemon and tea and it turned out perfect. If you love lemon and love tea, than you'll go crazy for this cookie. We put ours in the freezer– I dunno, that's how we like our cookies. I guess it's like freezing a candy bar, we just like them frozen!
What You'll Need
1 cup of softened butter– 2 sticks
5 T. of Unsweetened Iced Tea Mix ( I used Lipton )
Juice and Zest from 2 Medium Lemons
3/4 cup of white sugar
1/4 cup of dark brown sugar
1 t. of vanilla
1 egg
1/4 t. sea salt
2 cups of flour (I use bread flour for a chewier texture)
1/2 t. baking soda
1/2 t. baking power
1/4 t. cream of tarter
How to Make Them
In a large mixing bowl, beat the butter, egg, sugars, lemon juice and zest, and vanilla on high for 5 minutes or until fluffy with a mixer. In a separate bowl mix the dry ingredients– tea mix, flour, baking soda, baking powder, cream of tarter, and salt. Add the dry mix to the butter mixture and stir until blended (don't over do it). Chill dough for 15 minutes.
Spoon a large tablespoon onto lined baked sheets. Cook at 375 degrees for 10-11 minutes or until the edge is very light brown ( Do not over bake). Let the cookie rest for 10 minutes. Bake one sheet at a time.
Arnold Palmer Cookies-If you like the drink, do not miss this recipe! #fitfluential #sweatpink
Click To Tweet
How about you? Have you ever been to San Diego? What's your favorite Vacation Destination? Do you like Arnold Palmers?
For more DIY, running, and recipe inspiration follow me on Pinterest
Visit RunWiki's profile on Pinterest.