I'm linking up with Tina Muir and Confessions of a Mother Runner for Meatless Monday. Head over there and check out some of the great recipes they have.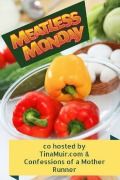 Imagine for moment someone staring at the keys of their computer unable to type one word. Frozen in thought and struggling to find something interesting to discuss. That's me. Honestly, my life is quite uneventful these days. I'm very grateful for that, but a steady life doesn't make for good writing.
I continue to enjoy spending the long summer days with my kids. We turn lemonade stands into business 101 classes. We discuss supply and demand and who our target customers are. We go over profit margins and how serving high quality products, good presentation, and having something unique, like a guitar playing 7 year old, can benefit your business.
The kids crush me at bowling and I give the excuse that, "bowling bores me," and that I can't be bothered, when inside I'm pissed that all four of them beat the pants off me. Bowling lasts one round before it bores them, too and we run off to the next adventure.
We spend hours trying to master front handsprings, only to wake up the next day limping from a strained ankle. Oh, the determination and perseverance! I discuss the difference between tenacity and harming yourself and how to know how to balance your grit and know when to stop – Who am I kidding? I just as bad as she is, sidelined from running because I won't give in. There must be some evolutionary advantage to it all. Oh well.
I am addicted and obsessed with the new PBS series Poldark. I read the novels and watched the old version of the series back in 1977 with my Mom and sisters. Winston Graham, the author of the books, is a master at developing characters and weaves subtle history lessons into every luscious episode. Please do me a favor and watch it. Do yourself a favor and don't miss out on such an epic series.
We went and saw the Minions on Friday night. It was really cute and, personally, I liked it better than Disney's Inside Out. I guess so many people hyped up Inside Out that when I saw it thought it was good but not the best children's movie I had ever seen. I may be the only person who feels that way, but so be it.
So, now onto the food. This is what we are up to in the food department.
I'm pretty sure there is a Thai style salad on every menu from Applebee's to Panera and if we frequented those places more often, I'm pretty sure that's what I would order every time. I love the flavor combinations, even if it isn't authentic Thai – I'm still a huge fan. This salad isn't anything new, but we have been been eating it like crazy this summer. It stores well in the fridge – the flavors seem to meld with time and it makes a great, quick, make ahead lunch or dinner – my husband even brown bags this to work a few times a week.
What You'll Need
For the Salad
2 cups of cooked Quinoa
1 cup of shredded carrots
1 cup of shredded red cabbage
1 cup of diced cucumber
1/2 cup of cashew
1 cup of sliced Red Bell Peppers
1/2 cup of diced green onions
For the dressing
1/4 cup of natural peanut butter
2 T. Rice Vinegar
3 T. fresh Lime Juice
2 T. Tamari or Soy sauce
small handful of fresh cilantro
3 T. Olive, Walnut or Grape seed Oil
2 T. of Agave or Honey
1 T. of Sugar
1 clove of fresh garlic
1 T. of fresh ginger
1 t. red pepper flakes
How To Make It
Combine all of the salad ingredients in a very large bowl.
Meanwhile, put all of the dressing components in a blender and blend until very smooth.
Slowly add dressing to salad until desired amount has been reached.
Can be stored in the refrigerator for up to a week.
Crunchy Thai Style Quinoa Salad with a Creamy Peanut Dressing #fitfluential #sweatpink #meatlessmonday
Click To Tweet
Did you think Disney's Inside Out was just okay or did you love? Have you seen the Minions? Maybe you don't have kids and are like, "why are you asking?" Okay, have you seen or heard of Poldark? What did you do this weekend? Do you like Thai food?