I'm linking up with Tina Muir and Confessions of a Mother Runner for Meatless Monday. Head over there and check out some of the great recipes they have.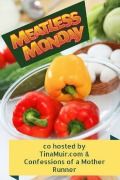 If you are reading from the United States I hope you enjoyed the 4th of July weekend. Ours was really quiet, just a family BBQ and then over to my Mom's house to watch the fireworks from her balcony. She's one of those lucky ducks who has the perfect view of two shows. We have made a tradition of going over to her house, night swimming, and then staying up to watch the fireworks. While we wait for our local show to start, we watch the Macy's NYC program on TV. It is definitely on my bucket list to go see that show live someday– it was spectacular! Anyone else watch that?
Today the weather cooled down, so I am really looking forward to running this week. The kids will ride their bikes and this allows me to get a nice little tempo run in. I have been trying to incorporate some stretching and yoga into my day even if it's only 15 minutes. I feel so tight.. probably from all of the sitting I do at the computer- gah!
I finished two DIY projects this weekend. I can not wait to show you. I am having so much fun creating running relating items. I bet you didn't know that I'm such crafty girl did you? Yep! I was just telling my husband this morning that if all I did was housework, I'd lose my mind. I love to create recipes and but I have to cook, so sometimes cooking isn't always fun, but being crafty is a such an outlet for me. Aside from running, it is one of the only activities I do that allows me to become extremely focused and disconnected. Most of the time I find it very therapeutic and relaxing. So keep your eyes peeled for more projects from me in the next few weeks.
This week is going to be really quiet- maybe a few outings with the kids- but not much going on. I am once again going to try and scale back on the blog and spend quality time with my family.
Here is a quick, refreshing summer drink recipe that is my healthy substitute for a slushie– it's like a frozen drink. The fizz has green coffee extract in it for an afternoon pick me up or post run refresher. I use Unsweetened Tart Cherry juice, but you could also use coconut water or Pomegranate juice.
What You'll Need
1/2 cup of Unsweetened Frozen Cherries
1 cup of Tart Cherry Juice
1 Arbonne Pomegranate Fizz Stick
Handful of Ice
How to Make It
Place all of the ingredients in a blender and mix on high until smooth and frothie. Enjoy! It's that simple!
Pomegranate Cherry Fizz-a refreshing summer drink recipe #FitFluential #SweatPink
Click To Tweet
What did you do the 4th? See any good firework? What's your favorite summer drink recipe?
For more running and recipe inspiration follow me on Pinterest
Visit RunWiki's profile on Pinterest.
This post contains affiliate links.