I'm linking up with Tina Muir and Confessions of a Mother Runner for Meatless Monday. Head over there and check out some of the great recipes they have.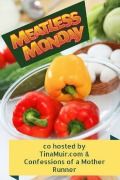 This weekend we celebrated one of my children's birthday. We had family who flew in from the East Coast, and it was so much fun. We kicked things off by taking my son to his favorite restaurant
Umami Burger
on Friday night. Saturday morning we went out to breakfast and then on to some really fun go karts at
MB2 Raceway
. That night we had even more great food, cake, and opened presents. I'm still full from eating, but it really was a wonderful weekend. Our family flew back to the East Coast this morning, so it was a bit of whirlwind, but so nice to have everyone here.
This week we are back to summer activities with kids, friends, a beach day or two, and then on to Fourth of July weekend. I can't believe this summer is flying by so fast. I took the entire week off from running and only did a few strength workouts, so this week I plan to get back after my early morning routine and run before my husband leaves for work.
I'm still deciding if I want to run a 5K this weekend with a few of my running friends. It's been so hot and I'm not trained at all. I'm a little nervous about going fast for fear that my shin will flare up or I could get injured in another way. It's making me feel really old… like I can't run a 5K. But, I must remember that this is just a temporary set back and I intend on fully healing from my injury from back in April before I take on any new running goals. If I do run, I'll be conservative and listening to my body for sure.
This weekend we plan on going to fireworks celebration and laying low with family and friends. It's hard to think about eating with all of the food we had this weekend, but we will be eating this White Bean Hummus Dip next weekend for sure. It's so light and fresh, perfect for bbq's and parties. It's super quick and easy to prepare and even my kids will dip their chips in this one.
What You'll Need
1- can of white kidney beans, drained and rinsed
1- jar of marinated artichoke hearts, drained
2- Tablespoons of Olive Oil
2- Tablespoons of fresh lemon juice
1/2 clove of garlic, coarsely chopped
1/4 cup of fresh parsley or 1 Tablespoon of dry
1/4 teaspoon of sea salt
pepper to taste
dash of hot sauce
How to Make it
Place all ingredients into a food processor and blend until smooth. Serve immediately with chips or crackers. Can be wrapped up and stored in refrigerator for up to one week.
Lemony Artichoke and White Bean Hummus #glutenfree #vegan #fitluential
Click To Tweet
For more recipe inspiration follow me on Pinterest
Visit RunWiki's profile on Pinterest.
What are you doing for the Fourth of July? Did you have a good weekend? What's your favorite appetizer to bring to a party?