I'm linking up with Tina Muir and Confessions of a Mother Runner for Meatless Monday. Head over there and check out some of the great recipes they have.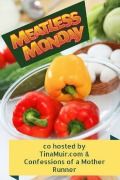 Hope everyone had a great weekend. Mine was very fun and interesting! My husband and I left Saturday morning for Bloggy Boot Camp. I bought a ticket a few months ago on a whim when my friend Debbie at Coach Debbie Runs mentioned that she was going in a private facebook group. I've always wanted to attend one as I've heard excellent feedback about them and, although it is painful for me to sit still for 8 hours, I was not disappointed by what I learned. The team of women who spoke were inspiring and full of knowledge.
One of the highlights was meeting new people, and seeing bloggers you love and follow like Debbie and Teresa from Eat Drink and Be Skinny. I felt like I've known them forever and wish I could have spent more time talking to them. It's so rare that I find a conference within driving distance, and being that it was in Temecula (SoCal Wine Country) I brought my husband along and made a short weekend away out of it. It was just what we needed. I feel so refreshed.
If you are a parent you will know what I mean when I say, "I need to get away from my life periodically!" We were able to talk uninterrupted for 24 hours and that sh*# is bonding– I had forgotten what it was like to talk to him without little people tugging at us.
Anyway, I highly recommend Bloggy Boot Camp whether you have been blogging for years or brand new, I am confident that you will walk away with some information that you hadn't had before. My weekend was awesome. Feeling happy and eager to go away with my husband again soon.
So, now on to my "food"… Maybe homemade, sugar free, low carb chocolate sauce isn't your idea of a meal, but there have been plenty of nights when I would happily forgo the entree of the evening to eat a bowl of ice cream, or in my case iced almond milk with some chocolate sauce poured on it.
Perhaps not a meal appropriate for some, but hey, you've got to live every now again, and this condiment makes it pretty much guilt free. Move over Hershey's, because this low carb sauce takes a quick 10 minutes to make and can be stored in the frig for up to 2 weeks.
The best part about it is it has no junk ingredients like the store bought, so I happily make my kids chocolate milk, pour it over fruit, and add it to my mochas.
Here's what you'll need
1/2 cup of Erythritol or Stevia
1/2 cup of unsweetened cocoa ( I like dutch processed)
2 Tablespoons of Butter or Coconut Oil to make it vegan
1/3 cup of Strong coffee — decaf if you are giving this to kids or use almond milk
1 t. vanilla extract
1/2 teaspoon of sea salt
How To Make It
In a medium sauce pan over medium heat add the sweetener, cocoa, and coffee and stir until the Erythritol has dissolved. Simmer until slightly thickened and then remove from heat. Add butter or coconut oil and vanilla, stir well. Let it cool and serve immediately or refrigerate for up to two weeks.
That's it! This is so easy to make, I can't believe I've ever brought store bought into this house. Never again.
What I did this weekend at #BloggyBootCamp and a recipe for #LowCarb Chocolate Sauce
Click To Tweet
Have you ever been to a Bloggy Boot Camp? What did you do this weekend?
For more recipes and inspiration follow me on Pinterest
Visit RunWiki's profile on Pinterest.